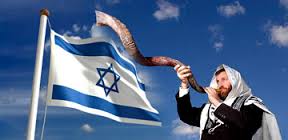 תקע בשופר גדול לחרותינו
Let the great shofar which will announce our freedom be heard.
And raise a mast to gather our exiles. 
And make us return, united, from the four points of the planet, to our land, Israel.
Blessed are You, HaShem, who brings back the displaced of Your people Israel.
[Non-literal translation. YB]
As we have already explained, the 'Amida is divided into three sections. The first section, which includes three blessings, consists in praising HaShem. The third section, also with three blessings, is about thanking God. And the second section, with thirteen blessings, contains our petitions to God. This section is divided into two main themes: 1. Personal requests, where we ask God to grant us: intelligence, forgiveness, good health, means of subsistence, etc. And 2. National requests, that is, what we ask HaShem to do for us, not as individuals, but as a "nation."
Our Berakha, teqa beshofar gadol,  inaugurates this sub-section of the 'Amida, which deals with our national aspirations.
"Let the great shofar, which will announce our freedom, be heard."
The first thing we ask of God as a nation is to gather all of us from the four corners of the Earth and bring us back to our land, Israel (קבוץ גלויות). The rabbis who wrote the Amida relied for the wording of this phrase on a verse from the prophet Yesha'ayahu (27:13) where it says that the return of the people of Israel to their land, and our independence from the nations (חרותינו), will be announced with the voice of the Shofar.
"And raise a mast to gather our exiles." 
This phrase is also taken from Yesha'ayahu (11:12). This mast or banner raised high, will show the "refugees" of Israel, the way back home. And so, united in our land and independent, we will return to our "normality" as a people: עם ישראל, בארץ ישראל, על פי תורת ישראל. "The people of Israel, living in the Land of Israel, ruled by the Tora of Israel. "
NATION OR RELIGION? This Berakha, incidentally, clarifies to us a very important and absolutely relevant point for our days. The enemies of Israel justify their rejection of the Jewish State by saying that Israel is a country that discriminates against members of non-Jewish religions. In 1975, the United Nations voted for a resolution that equated Zionism with racism. Why? Because Israel established the "law of return" by which Israel grants citizenship to any Jew. From the point of view of the United Nations, it is as if, for example, Japan would grant citizenship only to people who practice Buddhism, or something like that. That would be considered racism! Now, a very important lesson we learn from our berakha, and from the next five blessings, where we address HaShem as a Nation, is that defining Judaism as a religion might create some confusion.  Judaism is originally viewed in the Tora as the spiritual but especially "legal" legacy (the Constitution) of the People of Israel. It is more accurate to say that we belong to the Jewish Nation, rather than to the Jewish "religion."   Israel's law of return then, makes sense, and it is as racist as if Japan would establish a law saying that "Japan grants citizenship to all  Japanese, and their descendant" living in exile.
Our Berakha explicitly mentions the terms "exile", "return from exile", "displaced" (or "refugees"), i.e., those Jewish citizens who were expelled from Israel, and their descendants.
Being Jewish is a "nationality", inherited by the mother's side, which does not expire even when a Jew lives in exile for centuries. In this sense, Judaism cannot be compared to other religions. There is no "Christian Nation". Christians do not have a land of reference. Christian do not aspire to return to Rome,  or to reestablish a Christian State in the Vatican where all Christian should eventually live. There are no Christian national aspirations, on the contrary, the State and the Church are deliberately disconnected. The same can be said of Islam. There is no specific land to which all Muslims aspire to return. (Farrakhan's "Nation of Islam" is the name of his religious movement, not the way Islam sees itself, as can clearly be seen in the concept of League of Arab Nations).
Judaism, as we learn from this Berakha, does not make sense without the Land of Israel, and the aspiration to return to it.
We, Jews who live outside Israel, are proud citizens of the country in which we live, we are absolutely grateful and respectful of their laws of the countries where we live. But at the same time, we are part of the Jewish nation (nation = history in common, language in common, law in common). And as we say in this Berakha, our hope is that one day we will "normalize" our situation as a Jewish people, returning to our land Israel, from all the corners of the planet, thus fulfilling the vision of our prophets, and the Sages who established this Berakha.