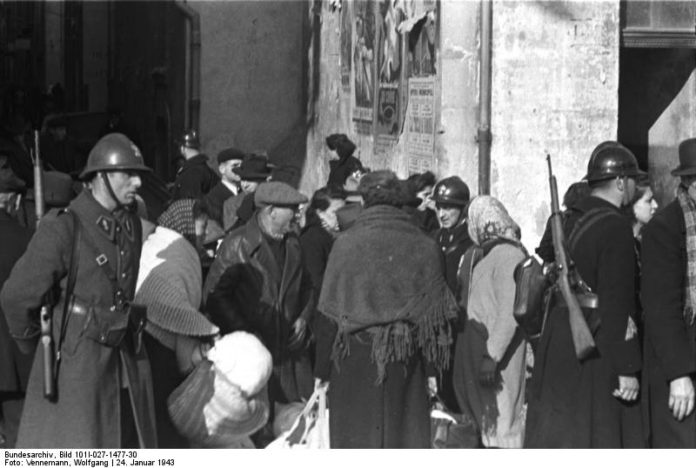 The Jewish community of Salonika or Thessaloniki was one of the most important Sephardic communities in the world. Between 1550 and 1615, it was the only city in the world with a Jewish majority. Its population consisted mainly of thousands of refugees families who had been expelled from Spain and Portugal. Among its illustrious Hakhamim were Rabbi Shemuel of Medina, Rabbi Moshe Almosnino, Rabbi Yaakov Ibn Habib, etc.
In 1900 there were approximately 80,000 Jews of Thessaloniki, of a total population of 173,000 souls. To get an idea of the dimension of the community of Thessaloniki, in the same year, for example, the illustrious Jewish community of Damascus, Syria had a little over 10,000 Jews. Thessaloniki Jews excelled in all professions: they were merchants, lawyers, doctors, teachers, etc. The Thessaloniki Jewish port stevedores were famous in the world. During Shabbat, the port of Thessaloniki, one of the most prominent and active in Europe, remained closed, since Jews were not working. There were 49 synagogues in Thessaloniki, and a Sephardic cemetery 500 years old, with half a million graves. The official language of the Jews of Salonica was Ladino, ancient Spanish written with Hebrew characters.
During the 1900s many Jews left Salonika and emigrated to the US, France and Israel. Still, the Jewish population pre-World War II Thessaloniki was of 56,000 souls. In 1941 the Nazis came to Thessaloniki. In April of that year, Germany invaded Greece, King George II fled from Athens, and a pro-Nazi regime was installed, with the country divided into three different areas. Athens and certain islands were under the control of Italy; East Macedonia was under the control of Bulgaria; and the Nazis controlled Thessaloniki. Soon, a ghetto was created for the Jews of Salonika and they were forced to wear the yellow star. Terrifying public shows of humiliating Jews became commonplace. In 1943 Jews were deported to concentration camps. This led to widespread looting of Jewish homes and businesses. The Nazis destroyed synagogues, Jewish schools, libraries, and desecrated the Jewish cemetery. 95 percent of the Jews of Thessaloniki 54,000 Jews were killed in Auschwitz-Birkenau, or died during the long and exhausting "death march" from January to May 1945.
POEM by Haim David 
Siete dias enserados (Seven Days Locked Up)
David Haim was originally from Salonika. He survived the death camps and immigrated to Tel Aviv after the Holocaust. He has also written poems on other themes in Judeo-Spanish, Greek, and Hebrew. This poem describes the train journey to the death camp. It was written in Auschwitz.
Siete dias enserrados
En vagones de beemas
Una vez a los tres dias
Mos kitavan a airear
Madre mia mi kerida
Ya tuvites el zehut
De murirte en tus tierras
I no pasates por el oluk
Padre mio mi kerido 
Ken te lo iva dezir
Ke vinyeras kon tu 'rmano
Al krematorio de Auschwitz
Padre i madre ermanas i ermanikas
Saliendo todos redjadjis
A el Patron del Mundo
Ke embie salud a mi
Ke me kite de estos kampos
Para vos echar kadish
Seven days locked up
in boxcars for animals;
once every three days
they would take us out for air.
My dearest mother,
you were fortunate
in dying in your country
and not passing through the chimney.
My dearest father,
who would have told you
that you would come with your brother
to the crematorium of Auschwitz!
Father and mother, brothers and sisters,
may you all be supplicants
to the Master of the world
to grant me health
and remove me from these camps
to recite for you the Kaddish!